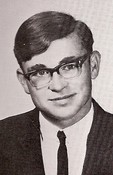 Steve passed away on August 25, 2008 following repeat bypass surgery. He lived a most eventful life, loved by me and our two sons, Pat and Donnie, and Pat's children, Brianna, age 12, Steven, age 8 and Dalton, age 6. He absolutely adored those kids, especially Brianna, his little girl.
Steve worked in the computer field all of his adult life. He attended computer school in Peoria following graduation from SHS. His first job was with LaSalle County. Yes, he was the one who created the tax program that generated your tax bills so many years ago. He then worked for Eby-Brown in Aurora. We were married on February 26, 1972. Shortly after the birth of our first son, Pat, we moved to Peru where Steve went to work for Jas. F. Cahill & Co. Not content to be an employee, before long he was VP and part-owner of the company now known as Connecting Point Computer Centers in Streator and Peru, and IV Net (internet service). Steve always said that when they started bouncing computer signals from a satellite, he would be ready to retire. Well, that time has long since passed and he remained in the business.
Steve was an avid pilot fulfilling his lifelong dream of owning a plane. He bought a lite-sport plane in 2007 and was literally on top of the world. He called flying his personal therapy. He was always the life of the party, usually the first to arrive and the last to leave. He was the camp director whose job was to make sure everyone else had a good time.
Steve was also very community service oriented. He served with the Illinois Valley Area Chamber of Commerce in nearly every capacity. He was on the board of directors and in line to once again sit as president when he passed. He was a past president and chairman of the United Way. He and a friend figured that between IVAC and the United Way, the two of them were responsible for raising somewhere around $5M. At the recent annual IVAC meeting it was announced that the annual golf outing that Steve chaired for the past 8 years will be named the "Steve Brust Memorial" golf outing in his honor.
His capacity to love was immeasurable. I feel it everyday and see it in my childen and grandchildren. It helps, but somehow it is not enough. Steve, I Love you Forever.
Mary Jo