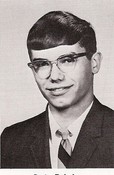 Craig T. Bakalar
Fairbanks resident Craig Thomas Bakalar, 56, died June 3, 2008, in Fairbanks Alaska after suffering two strokes.
Craig was born Aug. 24, 1951, in Streator, Ill., to Thomas and Rosemary (Hart) Bakalar. He attended St. Mary's Grade School, was a graduate of Streator High School class of 1969 and had attended the University of Illinois studying engineering. He was a former member of Immaculate Conception Church in Streator.
Craig had been employed at Ace Lumber Co. in Fairbanks and was active with the Animal Rescue Unit in Fairbanks, where he invented and made many of the items for the survival kits.