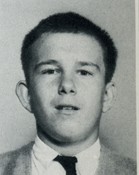 Garland James Gwaltney, 54, of 403 South Fourth Avenue, died at 9:45 p.m. Wednesday, March 3, 2004, at Culbertson Memorial Hospital in Rushville. Funeral services were held at Winterrowd-Hagi Funeral Home.
Burial was in the Hillcrest Memorial Park. Pallbearers were his son, Lucas, and Matthew, and Delaney Gwaltney, Mike Livingston, Thomas Cook, and Tom Armstrong. Honorary pallbearers were Joseph Kirk, Rick Castlin, Joe Williams, Dennis Keith, and John Negray.
Born August 15th, 1949, in Streator, he was the son of Ralph and Mary E. (Garland) Gwaltney. Surviving are a son, Lucas Garland Gwaltney of Streator; brother Ralph Gwaltney of Streator, and Walter (Maria) Gwaltney of Watseka; sisters, Patricia Lamango of Palm Springs, California, and Mary Ellen Wood of Chandler Arizona; and a special freind, Mary Lou Johnson of Streator.
He was prededded in death by his parents.
He attended Streator High School and Laborers Trade School in Mount Sterling.
He was a laborer for Laborer Local #393 in Marseilles. He was a past officer of Streator Laborers Local #82. All memorials may be directed to his son's educational fund.