Streator Township High School
Submitted by Betsy Mohan Kane
Streator's Main Street runs east and west, and in 1965 it was the center of commerce for the city and for thousands of people in surrounding areas. Memories of Main Street are best jogged by taking a short walk just to see what's going on, what's for sale, and who's downtown.
Our walk starts at the Main Street Bridge on State Route 18, which passes through downtown and crosses the Vermillion River. On the west side of the bridge is the West Gate Mall, located in Riverside. At the top of the bridge, on the north side of Main, is American Legion Post 217, named for Leslie G. Woods, one of the first Americans killed in World War I and a Streator native. Old-timers gather here to talk with their pals from WW I, and their grandchildren hold their wedding receptions here. An old Model A Ford chugs past, heading west for the Five-Mile Corner. "Farmer Bill" Halcott is at the wheel.
We'll stay on the north side of the street and walk towards the heart of town. Just east of the Legion is the Dog-N-Suds Drive In, with its aroma of grilling burgers and hot French fries. The Stith family is doing great business here, and the juke box is playing "California Girls" over and over again. Streator Glass & Mirror is next to the Dog-N-Suds. Across the street is the Streator Clean Towel Service in the tall building, and there's "Crash" Canale filling her jalopy at Danko's Standard Service. Ralph Walker peels out of Danko's, and lays rubber halfway down Oak Street.
We zip past Nick's Auto Repair and Lucky's Body Shop and slow down at Beckman Motors to look at the new cars in the display room. "Beaver" Beckman's dad owns that place, but "Beaver" drives a Volkswagen. That Chrysler Imperial in Beckman's display window is really classy, and Collin's Motors – one door down -- is showing that new sports car, the Mustang. The GT350 model is the coolest one ever, even if it costs almost $3,000! The venerable Plumb Hotel occupies the rest of the block, and features the Colony Room Restaurant on the corner of Bloomington and Main.
Across the street on the south side of Main is Rizzo's Barber Shop, the Stork Club, the entrance to the Eagles, and Rokey's Flame Room, which is located on the corner of Bloomington and Main. Rokey's building is three stories tall and coated with signs of all types. All the windows on the third floor are boarded over and covered with advertising. There are neon arrows flashing along one side of the building pointing to a liquor store. Following those arrows also takes you to my old hangout, Healy's Cigar Store, where Bill Farrell taught me how to play pool, and a little further on is the incomparable Hamburger Inn, where a greasy little burger costs ten cents.
Back at Main and Bloomington, we cross to the east, skip by Milady's Clothing Store and duck into the narrow space occupied by George's Sweet Shop, run by George Angelos. His wife runs Milady's, you know. My brother buys turtles at George's (pecans and caramel and chocolate), but I like the chocolate covered caramel on a stick that George calls the "Whip Bar." The little West End Cigar Store is next door, one of Streator's many pool rooms. The Paddock Club, a smoky bar, is conveniently located nearby. At either one of these institutions and at every other bar, liquor store, poolroom, or fraternal lodge in Streator gambling is readily available. Most people play the punch board for a quarter. Those little pieces of rolled paper could be worth $100 to a lucky bettor, but nobody ever seems to win more than a few dollars. Gambling is the hallmark of the town. Whenever there's a raid, the Streator Police are the last to know.
Across the street on the corner of Main and Bloomington is Ullom's House of Color paint store, located in a new building that replaced the Armory Building. The old Armory disintegrated in a thunderous crash in the 1950's and bricks exploded onto Bloomington Street, crushing parked cars. Someone blamed the building's demise on all those people who roller-skated on the second floor long ago. Something like metal fatigue, I guess, but I always figured that poor maintenance and shoddy mortar would be a better explanation.
Gamble's Hardware Store and Snyder's Gift Shop are in this block. Streator Decorating, which sells Benjamin Moore paint, venetian blinds and wallpaper, is next to Snyder's. They've got a great toy store in the basement that's very popular at Christmas. Ritchie Furniture is located next door, and on the corner there's the small office housing First Federal Savings and Loan. Jane Hardy's walking out the door. Her dad is the manager at First Federal. And here comes Bobby Anderson careening down Park Street in his new car with its custom interior; beautifully tucked and rolled.
Continuing on the north side of Main, two women's stores, Kristal's and Opdyke's, follow in line and lead to Streator Dry Goods and then to Montgomery Wards. "Monkey Wards" is the biggest store in town, and it occupies the old Heenan Block, has three floors of merchandise and an elevator. They also have a catalog store in the basement. It's well-lit inside, with tall ceilings, and the smell of new clothes. Mickey Rhodes taught me to shoplift here in the Sixth Grade. We started with socks.
Crossing Park Street, we come to the front door of the Union National Bank. The Union National is my bank; I'm in the Christmas Club, and my money is secure behind that steel vault door. There's a huge aerial photograph of Streator hanging on the wall behind the teller's cages. I remember the day the picture was taken; we waved at every airplane that flew overhead. I still think I see myself in that photograph, just a smudge on a rock along the Vermillion River.
Union National has a lot of business offices located on the second floor, and the upper floors of most of these downtown buildings are occupied by doctors, dentists, lawyers, photography studios, real estate agencies, dance studios, unions, fraternal lodges, beauty shops, and apartments. Just about everyone goes to a doctor or dentist along Main Street -- Barton, Barickman, Bendixen, Conley, Mason -- and their parents buy insurance from companies like Hardgrove, or get legal services from the Mohans, or schedule a family portrait at Cripe's or the Lorrane Studio.
Chief of Police Andy Kolesar is standing guard in front of the bank, decked out in his white shirt, dark blue pants, General's stars, and gold-braided hat. People always say that he looks like a New York City doorman, but he upholds the law like no one else ever has, except for the gambling. In his days as a patrolman he was famous for writing traffic tickets for his relatives.
Out the door and across the street is Scharfenberg Brothers men's store. They've got the best men's clothes in town. Frank Scharfenberg prints a column every Monday in the Streator Daily Times Press called "Streator Sidelights." It's partly advertising, ("Men's straw hats just arrived; perfect for summer") but also serves as kind of a social register, giving news of local boys in Vietnam or people who just moved to town.
Squeaker Solon just got a job working at Scharfenberg's for 75¢ an hour. It's considered the most prestigious job in town for young men. There's Squeaker now; carrying a load of suits down to Larry's Tailors for alterations. Barb Loebach and her sister, Ruthie, drive by in a white Ford Fairlane. Looks like Barb's got her eye on the Squeaker!
Nearby is Star Clothing, which is operated by Sid Iskowich, who's famous for always wearing suspenders and a white shirt. "Star Clothing" is spelled out in tile in the long entryway between two tall display windows. Frank's Credit Jewelers is next door to Iskowich's. Then there's the I.T. Book Store. The "I.T." in the title stands for "Independent Times," an early Streator newspaper once located here. Do you remember Burney Matthews? His parents run the I.T., and everyone gets their school supplies there.
Continuing east on the north side of the street, the smell of cinnamon bread greets us as we pass by the Federal Bakery. The Western Union office comes up next. People primarily use it to wire money since everyone has a phone these days. Jay Nelson weaves by on his bike as we pass Ray's Paint Store and stop to look in the windows at Lloyd's Surplus Sales. That place smells like oiled canvas and old army boots. Leslie Shoes comes next and then Wright's Cigar Store; a spot where older men hang out. They still call it "Proud's" in honor of the prior owner. "Hoggie" Greenwood is standing guard on this corner.
Across the street in the middle of the block is Hill Brothers Confectionary. It's the coolest place in town. Hills has a lunch counter and dairy bar up front and booths in the back with individual Rockola juke box selectors at each table. After school and on Saturdays, it's almost impossible to get a place to sit. Karen Spirduso, Mimi Mohan, and Eileen Sennot are just walking in. John Crego and two of his brothers are standing out front.
Next door to Hill's is the Fashion Shoe Store, a place where I've been buying shoes for as long as I can remember. A fluoroscope lets you see the bones of your feet inside the shoes; all green and fuzzy. Other shoe stores have these devices, too. My parents bought me Buster Brown shoes and Red Ball Jets at Fashion Shoe, but I wear hush puppies now; I've got two pairs. S.S. Kresge's dime store offers its wares along this block. Goslin's Drugs always has all kinds of camera and photo supplies. My sister worked there as a clerk and served soda drinks and ice cream concoctions at the counter. She wouldn't let kids sit down until they told her what they wanted. Otherwise, she'd wait forever until they made up their minds. The Elias kids were the worst, she said. The classic Paris Cloak is next door, a name from a hundred years ago. Paris Cloak has the same kind of entryway as Star Clothing.
We're crossing Monroe Street now, and there's Jeff Plesko on the step at Miller's Cigar Store monitoring a discussion between Willie Wahl and Ronnie Wahl. Hanging out on Miller's corner is a young man's privilege, and Miller's is a young man's Mecca. Young women would never dream of entering Miller's. This corner is the place to be on Saturday night when the hot rods are rumbling down Main Street. There's a pay phone at the curb that's convenient for making connections.
Adults don't hang out here, although a lot of older men drop by briefly to buy the paper or pick up a cigar. Al Dordan is often here, looking like a country lawyer with his broad-brimmed hat, suit and tie, and wing-tipped shoes.
Stepping inside, I see Ralph Miller standing behind the candy counter, and ask him for a vanilla phosphate. You never "order" anything from Ralph, you always have to ask. Ralph takes his time, grumbling all the while. His nephew, Gus, is ready to come on duty, and Bobbie is hauling out a box of trash. Jerry Lee Lewis is on T.V. with Dick Clark, and the juke box is right underneath. Sometimes when there's too much noise, Ralph just unplugs the juke box (and he won't give you your dime back, either!)
At the front table, young David Kotanski is playing nine ball with a pal of his. Kids his age usually aren't allowed in here. At the middle table, "Kooch" Novotney and Danny Uhren are playing eight ball against the Flahaven brothers. Back at the snooker table, Sag Crawford is running the six ball from pocket to pocket while Gary Crawford watches from the sidelines. I sit in the elevated chairs against the wall, finish my phosphate, and enjoy the action. "Peanuts" Kohan walks in the back door, bringing the sunshine with him.
On the way out, I stop by the magazine rack to flip through "Road & Track," but I duck out quickly when I hear Ralph shouting, "This isn't a reading room, the library is just down the street." Out front, Dale Hornick, George Hornick and Rusty Wicks are watching the traffic. Dale tosses his cigarette butt toward a manhole cover. It arcs perfectly and disappears through a round hole about the size of a bullet. I wait for an explosion, but nothing happens so I walk on. Next to Miller's is Stacy's Place; where a somewhat more serious crowd enjoys their pool. You can drink beer in Stacy's.
Across the street on the corner is Jack & Jill, which is the spot for children's clothing. Ford Hopkins Drug Store is adjacent, and there's also a lunch counter there. Next is Theodohr Drugs and its candy counter. Then there's the Kinney Shoe Store. Bill Shannon just got a job there. And further on is G.C. Murphy's five and dime, where Bill Bridge's father manages the store.
I pass by Trapp Brothers Tavern and keep on going. Bowman's shoe store is on the north side of the street, and there are many jewelry stores in this block. Kerr's is very popular and has a big cast-iron clock outside. Leslie Kerr's parents own that place, and Perisho's Jewelry Store is nearby, as is Carew's. There's an old, old Streator establishment here; E.C. Van Loon & Sons Sporting Goods. They sell Schwinn bikes, models, hobby supplies, and every type of sporting equipment. Thrifty Drugs is on this block, and at the end is the entrance to the Knights of Columbus Club Room.
Finishing up across the street, I need to mention J.C. Penneys. It's in a two-story building, selling mostly clothes, but you can also order items from their catalog. They have a system of vacuum tubes that carry money to the office and return receipts to the cashier station. I suppose that cuts down on theft and errors. On the corner is the Northern Illinois Gas Company office, where you can pay your utility bill right at the counter.
The Plumb Theatre is next door on Vermillion Street. In the summer they hang a banner under the marquee that says, "It's Cool Inside!" It's nicely air conditioned, but it's also cool because it has a balcony and tons of room. All the best movies come to the Plumb; I saw "Tom Jones" there two years ago with Darla Hotchkiss on our first date. "The Sound of Music" is playing there now. The Plumb is the only show in town, unless you count the drive-in. The Majestic is closed, and the Granada burned down in 1963. (That was a great fire!)
Across Vermillion Street is the gap left by the demolition of the Williams Hardware Store. It blew up in 1958 -- sewer gas they said. Rain had been falling for days, and basements were flooded all over town. A pump was brought into the basement of Williams Hardware and a spark must have set off the gas. The blast blew sidewalks into the air, collapsed half the building into an alley, and started a fire that gutted the place. Next door, on the corner of Vermillion and Main, is the Streator National Bank, which occupies most of the ground floor of the Murray Building. It's the tallest building in town. The "Human Fly" died there in the thirties when he fell to his death trying to climb up to the roof.
Across the street on the north side is Curran's Men's Wear, which is the primary competition for Scharfenberg's. Francis Curran owns that place and young Francis works there too. Next door is the Ace Hardware that the Stone family owns and operates. They are big supporters of Boy Scouts and sell scout uniforms and equipment. Jodie's Billiard Hall is on this side of the street and Shab's too. There's a Spiegel's Catalog Store on the next corner.
On the south side is Rashid's "for clothes that fit" and two doors down is Mushro's. You can buy Streator High School letterman's jackets and sweaters there. There are a lot of little grocery stores here: Kollar's, Buehler's, K&R Meat Market, Grako's, and Chicago Grocers. They have hand-lettered signs plastered all over, and fruit and vegetables stacked outside in boxes and baskets to attract customers. It's an old world tradition, just like the grocery stores their ancestors operated in Germany, and Poland, and Bohemia. These little stores have been here a long time; it's a tradition on this block.
Persistence of tradition is a theme on Streator's Main Street. Many of the same stores were here 20 years ago and some of the businesses have been here nearly a hundred years. How much longer will it all last? Look at Main Street today and see.
Thanks goes to Janice (Holmes) Kohan for sending the following class reunion booklet covers.
The 10 year Reunion booklet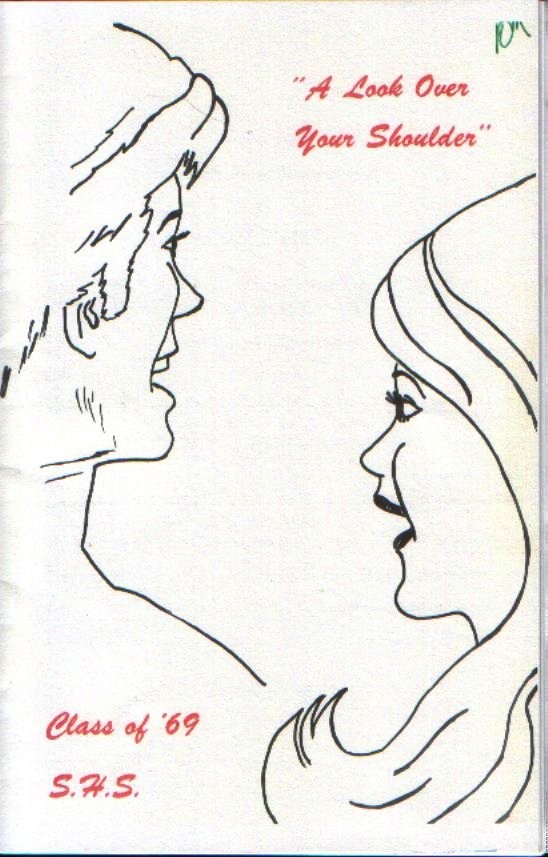 15th Reunion Booklet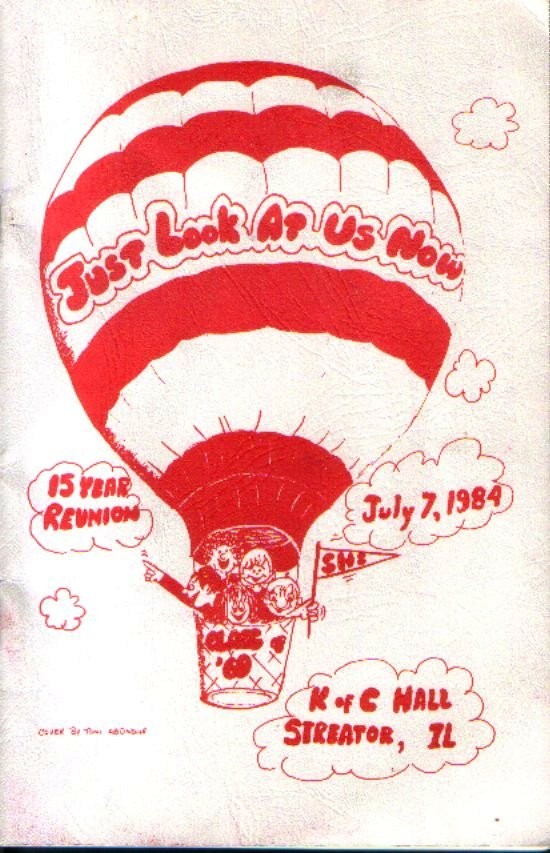 20th Reunion Booklet (Front and Back)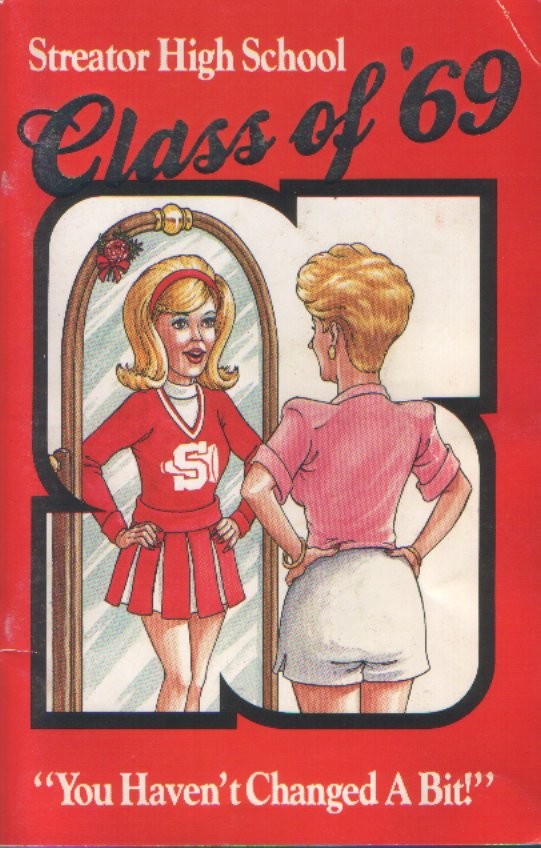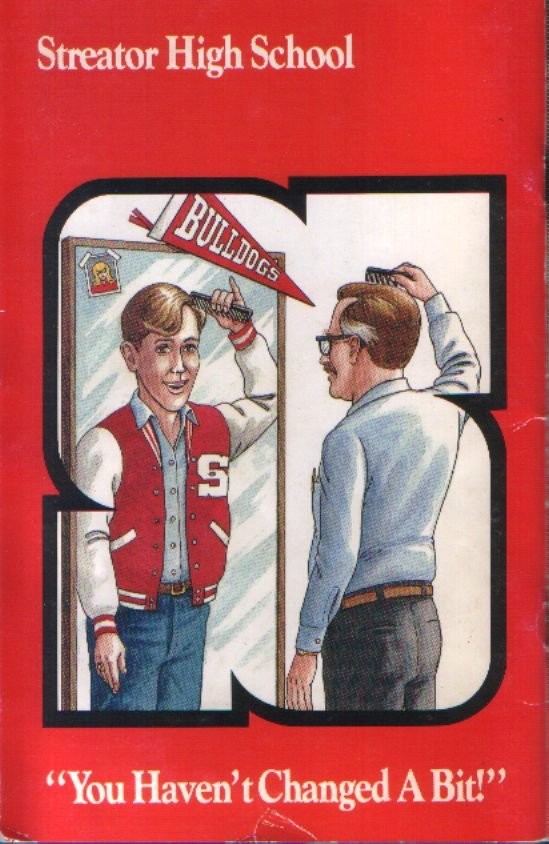 25th Reunion Booklet (Front & Back)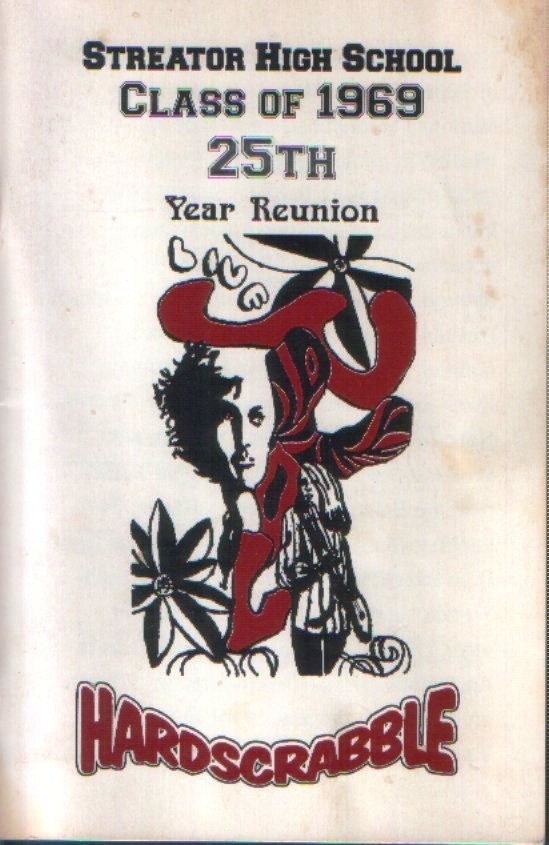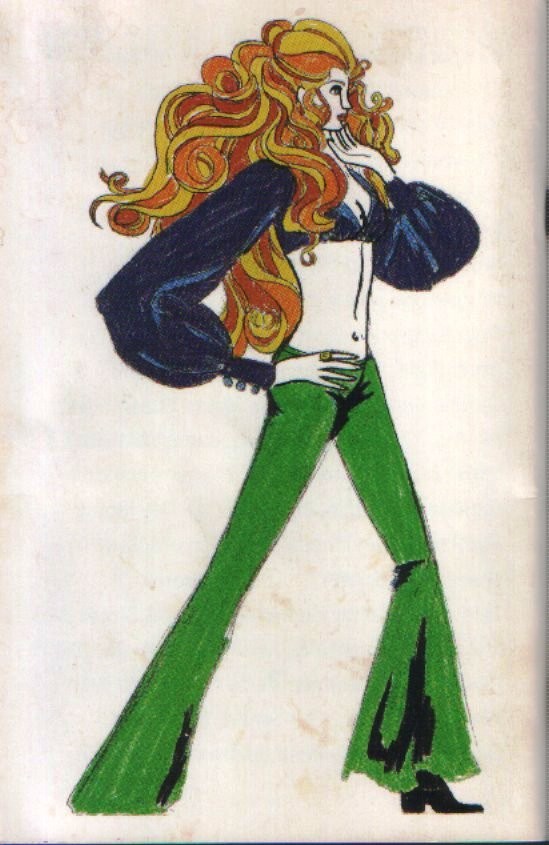 30th Reunion Booklet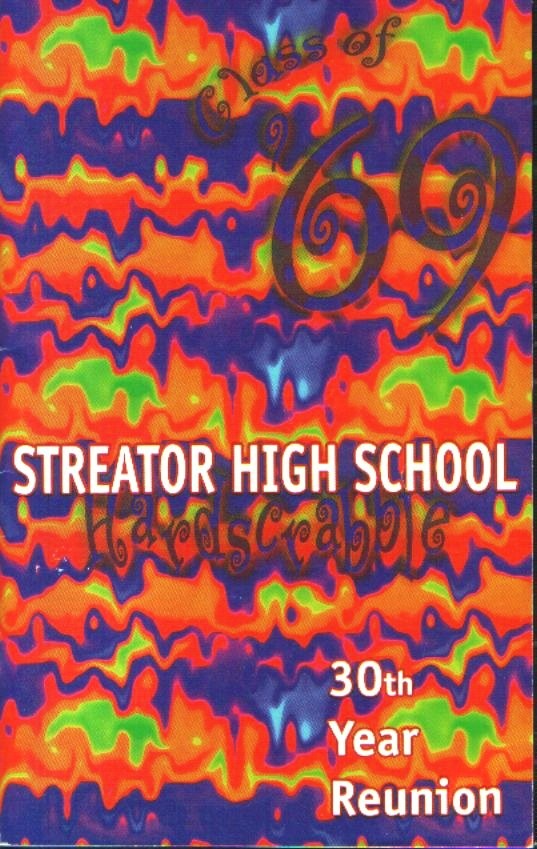 35th Reunion Booklet (Front & Back)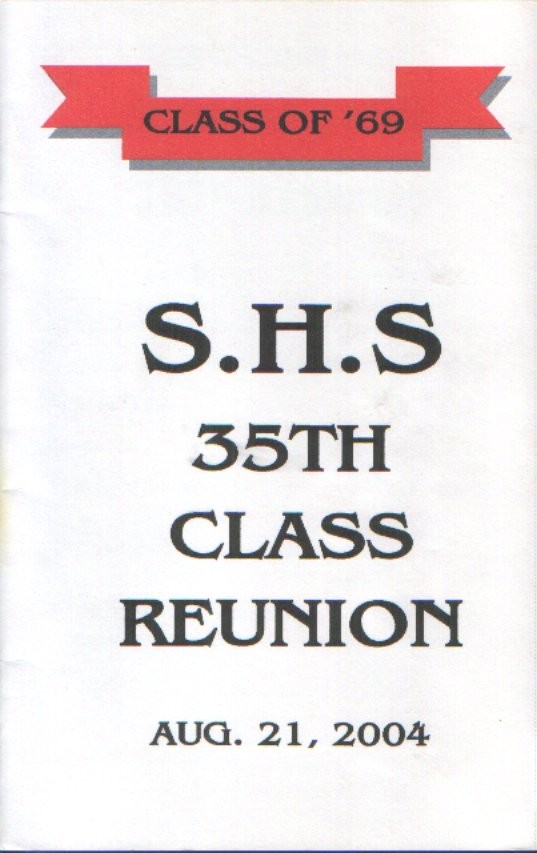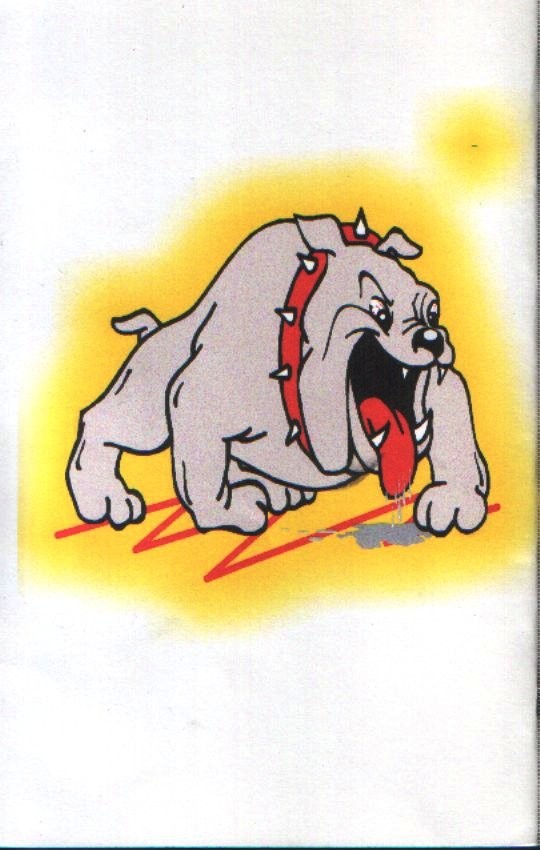 40th Reunion Booklet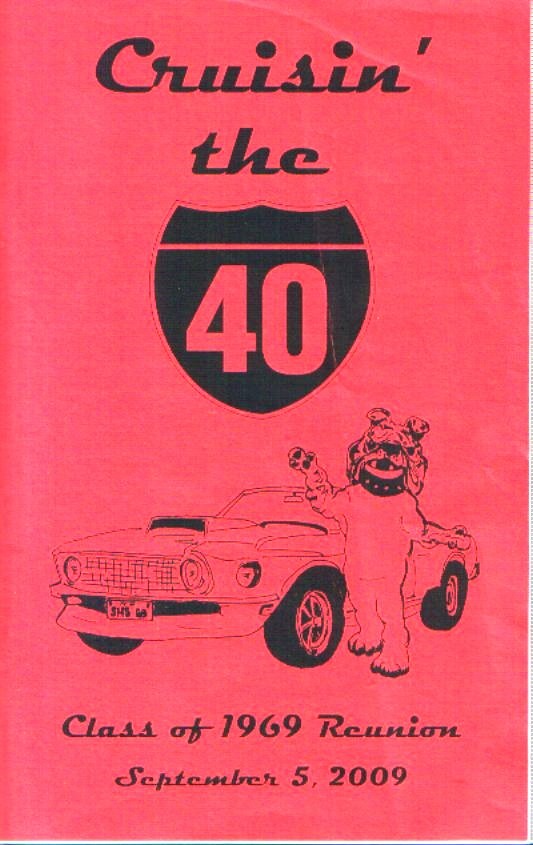 Thank you All for being Friends We
Traveled down the road and back again
your heart's are true you're pals and a confidants

I'm not ashamed to say
I hope it always will stay this way
My hat is off, won't you stand up and take a bow

And if you threw a Party
Invited everyone you knew
You would see, the biggest Gift would be for me
and the card attached would say,
Thank you for being my Friends

Thank you for being my friends
Thank you for being my friends
Thank you for being my friends

If it's a Car you lack
I'd surely buy you a cadillac Or at least
tryto talk Charlie Ohligschlager into a ride in his
Whatever you need, anytime of the day or night

I'm not ashamed to say
I hope it always will stay this way
My hat is off, won't you stand up and take a bow

And when we All get older
With walking canes and Hair of gray
Have no fear, even though it's hardly here
I will stand real close and say,
Thank you all for being friends
And when we die, and float away
I'll see you there, and once again
Thank you for being a

Thank you all for being friends
(I want to thank you)
Thank you all for being friends
(I want to thank you)
Thank you all for being friends
(I want to thank you)
Thank you all for being friends
Whoa, tell you about a friend
(Thank you all right now, for being friends)
Thank you all for being friends
(I wanna tell you all right now, and tell you again)
Thank you all for being friends
(I wanna thank you all, thank you all , for being friends)
Thank you all for being friends
The following newspaper clipping was sent by Ted Miller. Look at all of the fun things we are learning about each other!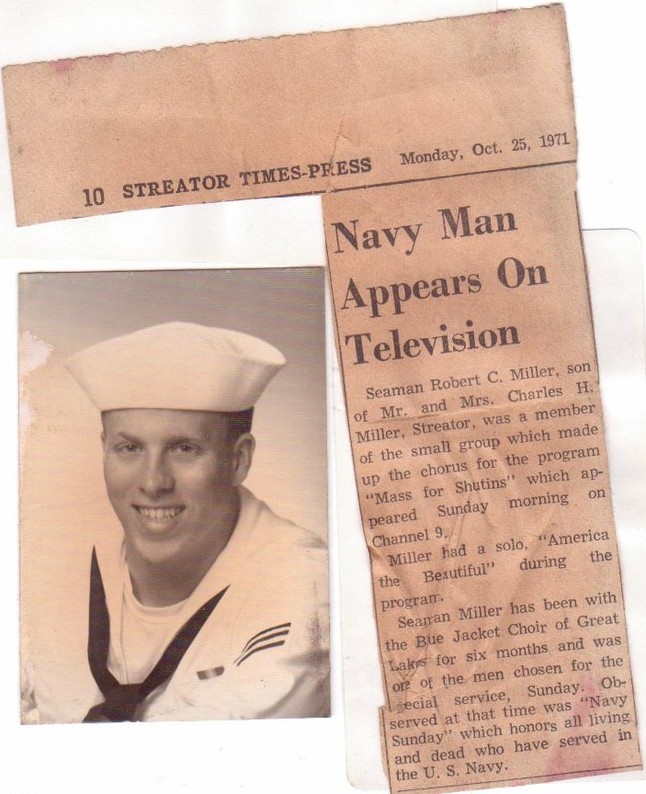 THE FOLLOWING IS A PAGE FROM THE BOOK MAGIC CARPET AND MARY ANN (CHRISTENSEN) JAKUBEK'S CORRESPONDANCE WITH THE AUTHOR.
A PAGE FROM THE BOOK MAGIC CARPET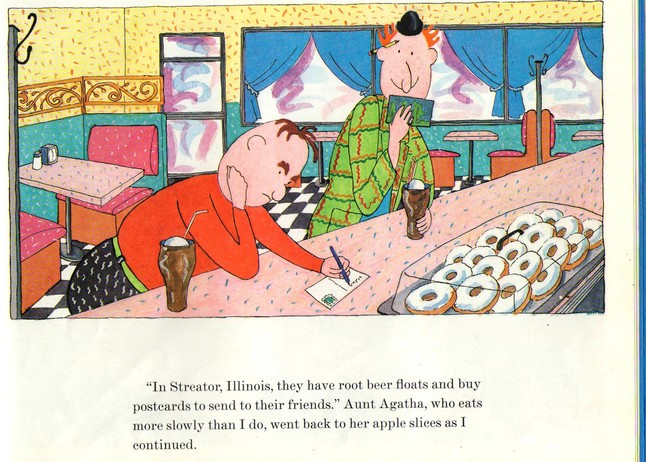 Dear Ms. Brisson,
I am from Streator, IL and just returned from my 40th Class reunion from Streator High School Class of 69.
I read this book to my children years ago and found the copied page from your book.
I am curious as to your travel to Streator and the famous rootbeer floats. A friend's parents had the Wayside Drug store, which look similar to your drawing.
Thank you for your response.
Thanks for your email. I was also in the class of '69 but haven't heard anything about a reunion yet. (But I lost 30 pounds, just in case. . .) I hope you had a good time at yours.
I must admit I've never been to

Streator

- I just picked it off a map since I needed a town that began with the letter "S". And I had nothing to do with the illustrations, so any resemblance to your friend's parents' store is just a coincidence - but a happy coincidence, don't you think? The illustrator lives in NY so I don't think she had been to Streator either. Rootbeer floats got into the story only because I like them!
So there - another literary mystery revealed - I hope you aren't too disappointed.
Thanks for writing!

Pat Brisson
JANICE HOLMES (KOHAN) SENT THE FOLLOWING ADD AND NEWS STORY ABOUT HER GRANDFATHER'S GROCERY STORE. IT BRINGS BACK FOND MEMORIES OF THE DAYS OF THE NEIGHBORHOOD GROCERY STORES. SURE WISH YOU COULD GET VANILLA EXTRACT FOR 9 CENTS AND 10 LBS OF FLOUR FOR 49 CENTS AGAIN.
Grandpa Oscar Holmes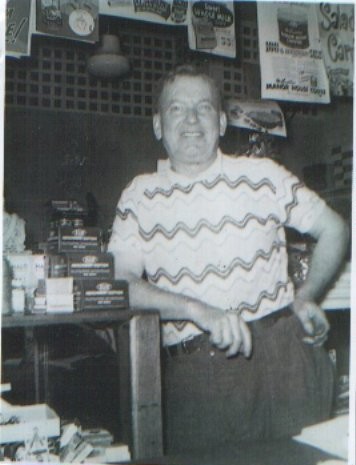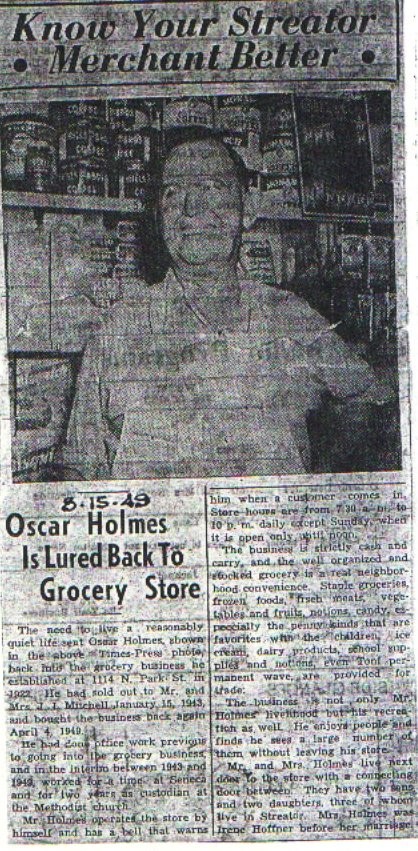 Mary Ann(Jakubek) Christensen sent this 20th year reunion booklet designed by Toni (Ragusa) Abdnour and printed by Lou Oliver.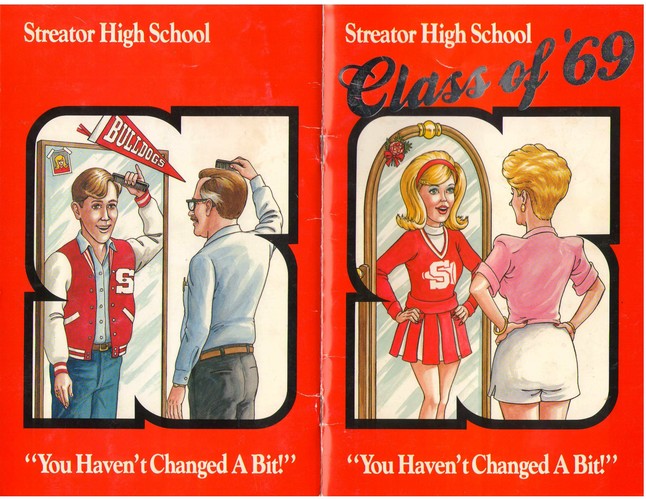 Paua Sopher (Cunningham) had this jewel to share with us.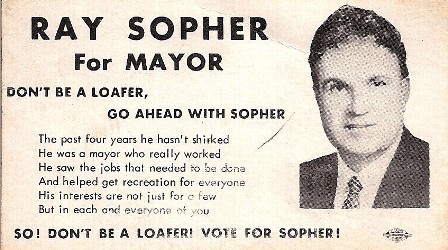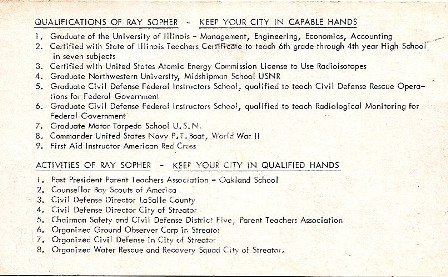 Marilyn Howe at the Woodlawn School prom with Dick Aukland.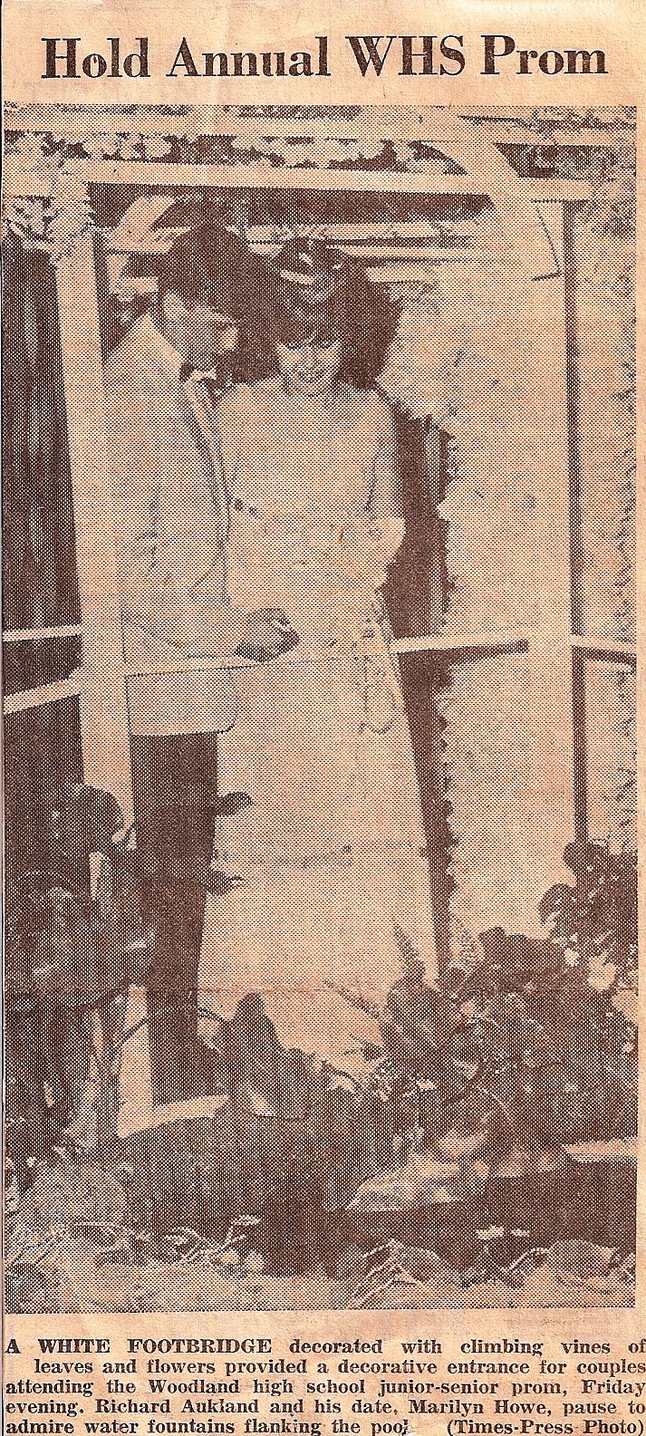 FOR THE FOLLOWING NEWS CLIPPINGS CREDIT GOES TO MARJIE STINAR.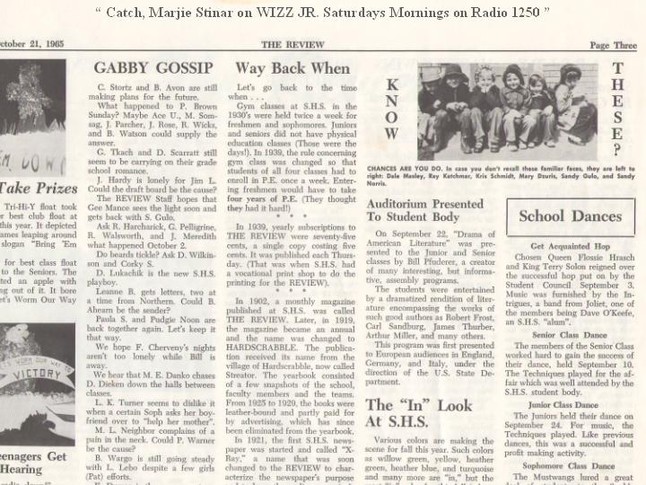 Feb 17, 1966 EDITION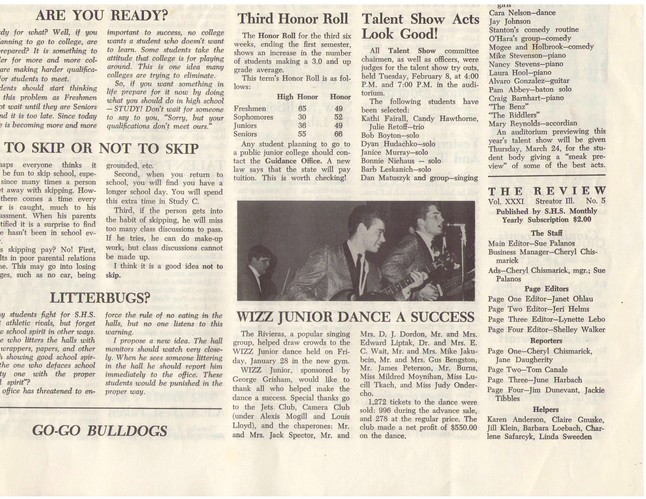 May 19th, 1966 Edition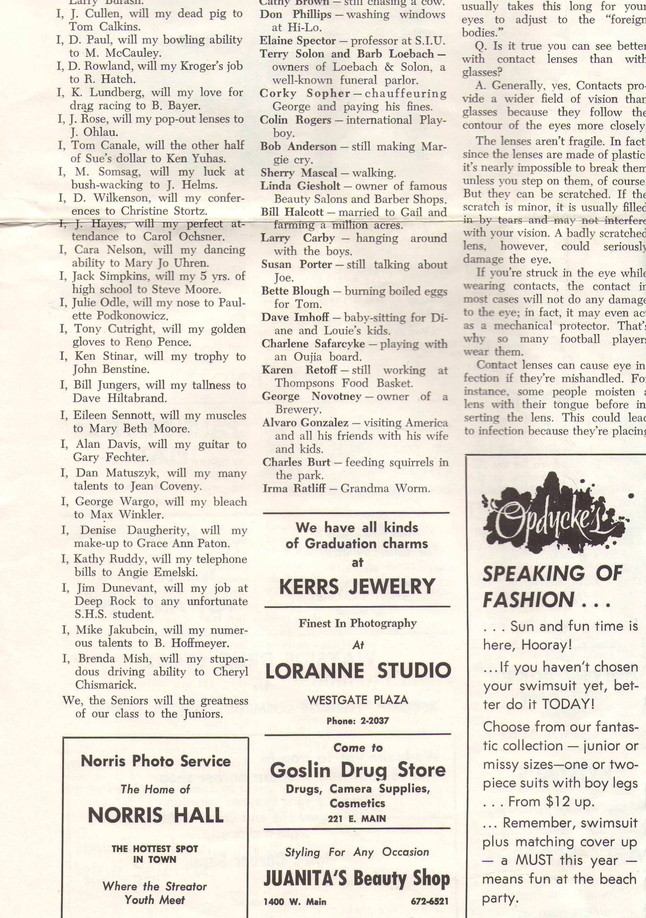 SUZANNE (LENHAUSEN) ISHEE FOUND THIS TREASURE.
DO YOU SEE ANY FAMILIAR FACES?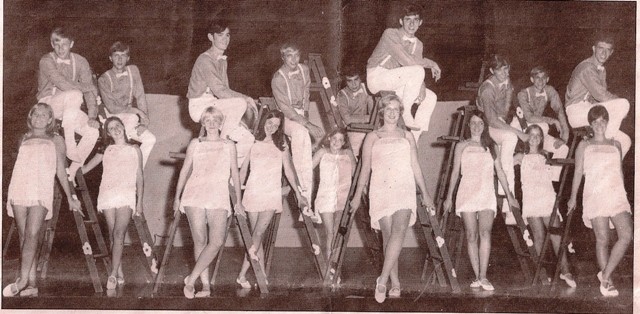 LINDA (RITKO) BAKER CONTRIBUTED THE FOLLOWING GREAT ITEMS.
I AM STARTING THEM OUT WITH MY FAVORITE. WHAT WAS THE DETENTION FOR LINDA?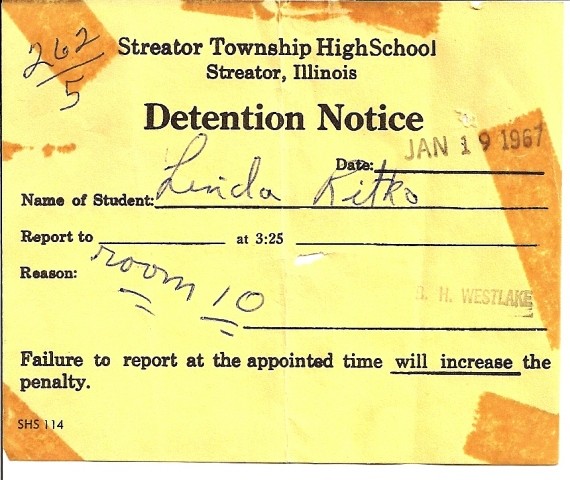 OUR GRADUATION INVITATIONS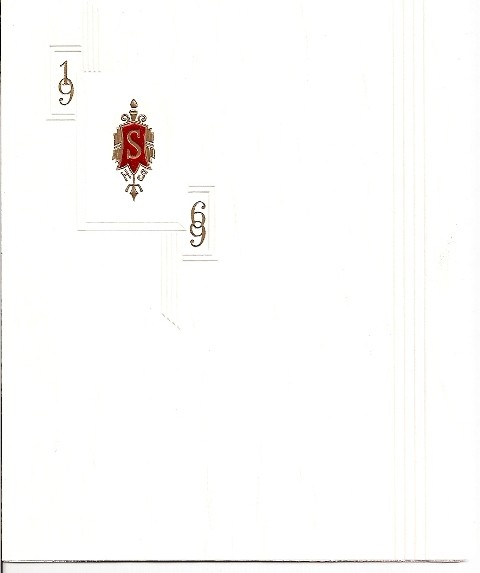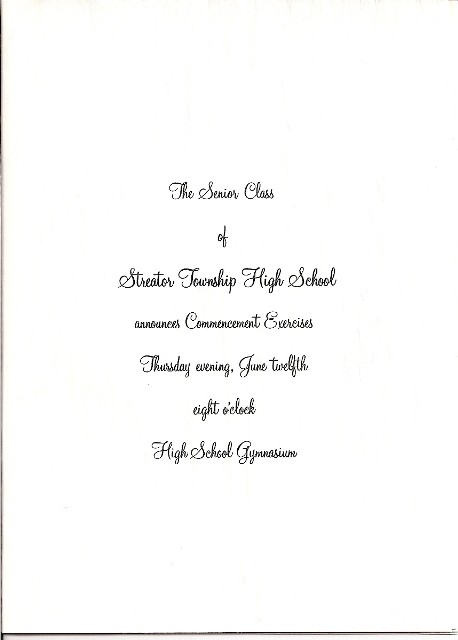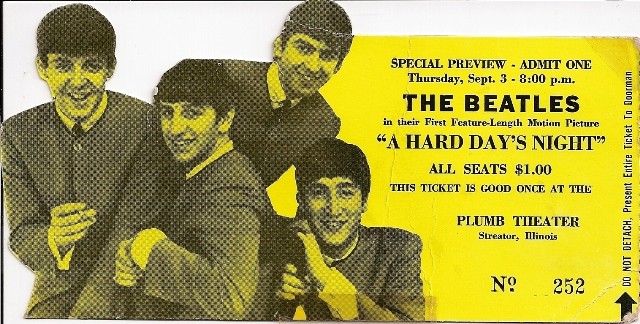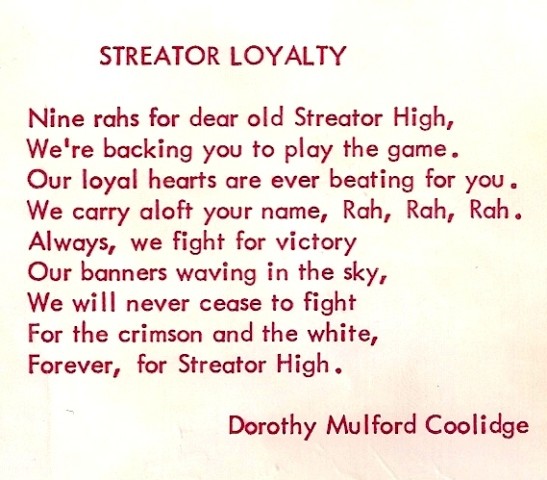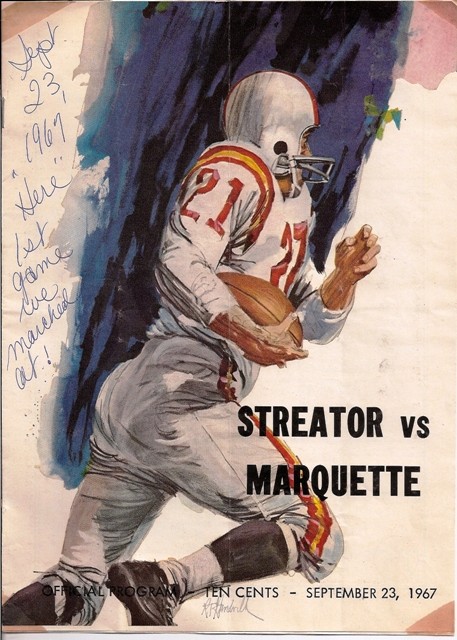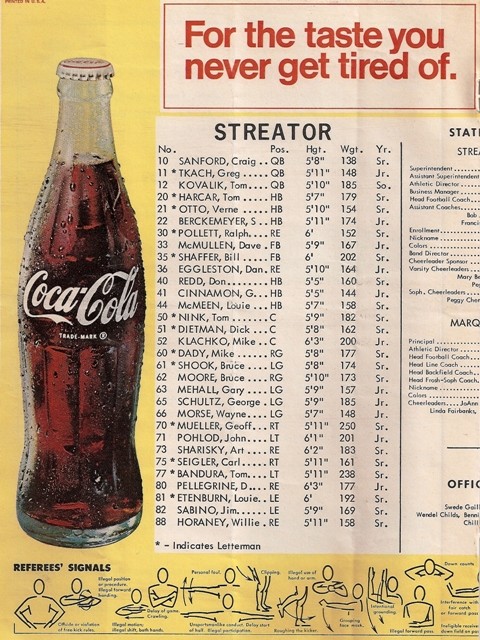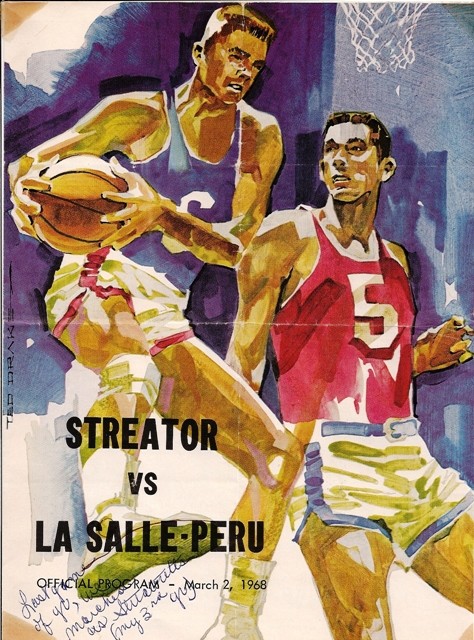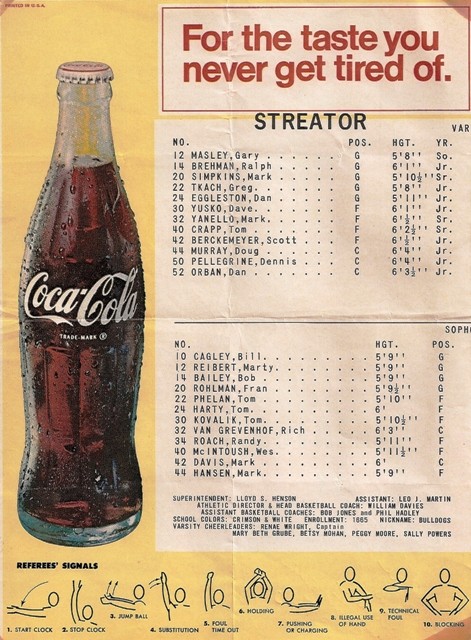 THANKS TO MARY ANN (CHRISTENSEN) JAKUBEK FOR SENDING THE JUNIOR PROM PROGRAM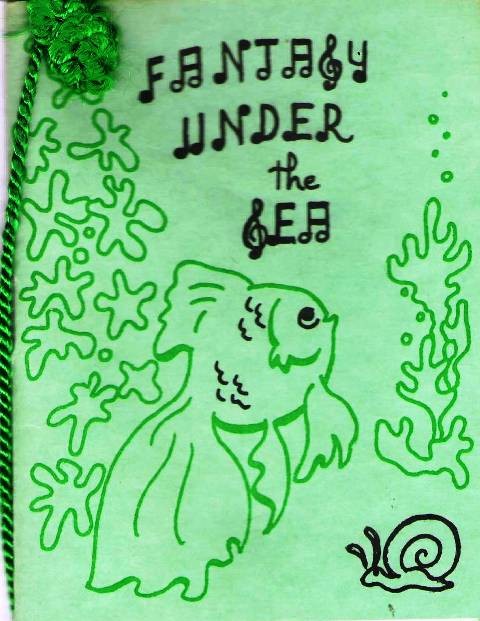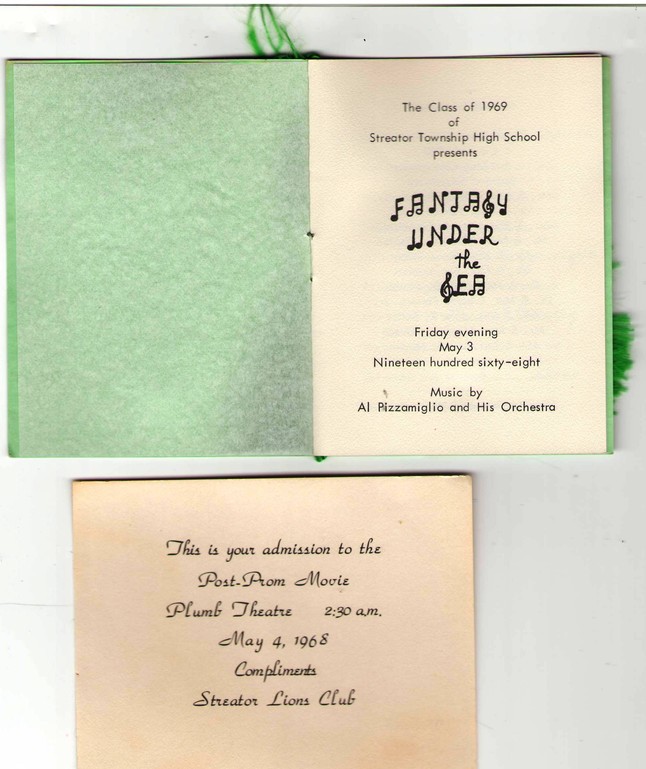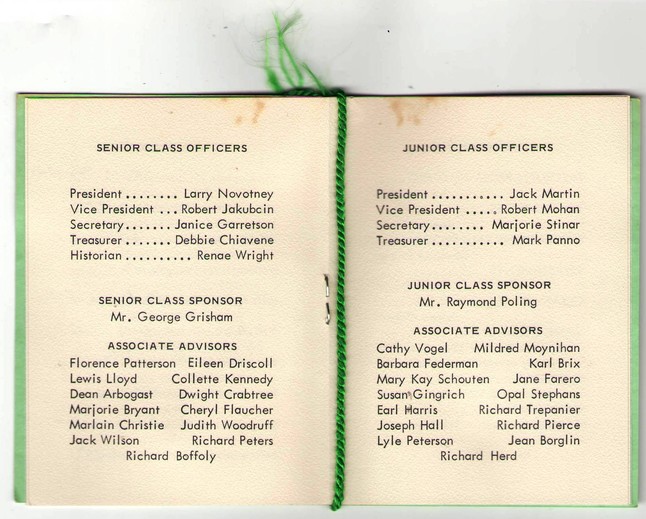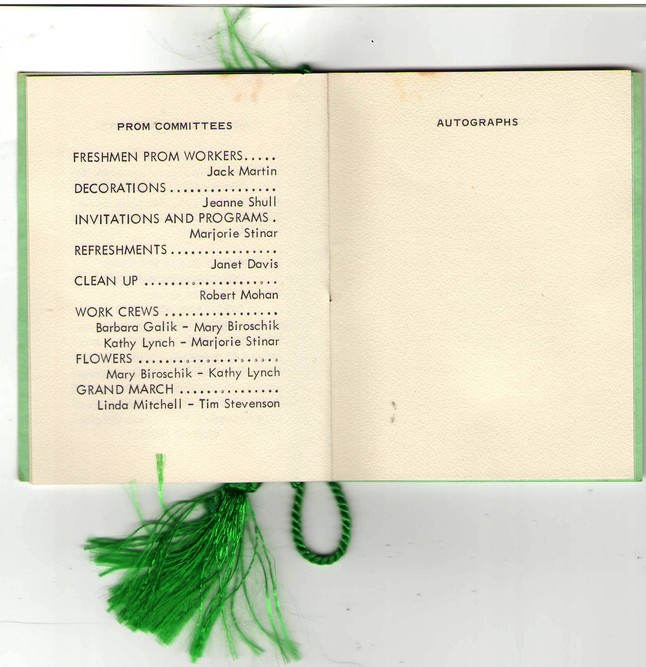 Thanks toTim Bryant for sending the graduation program.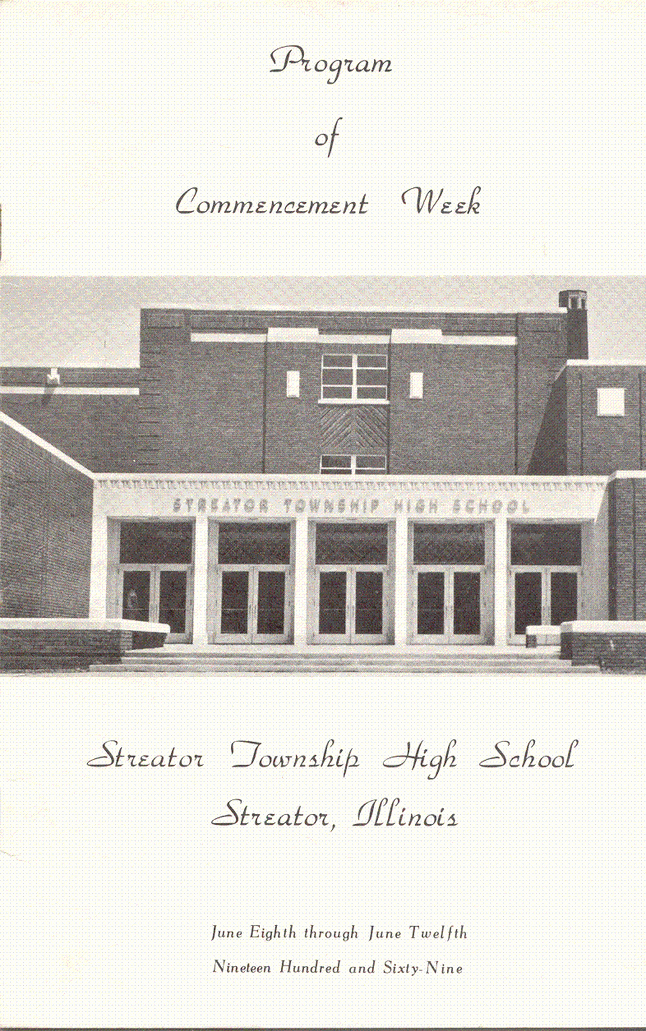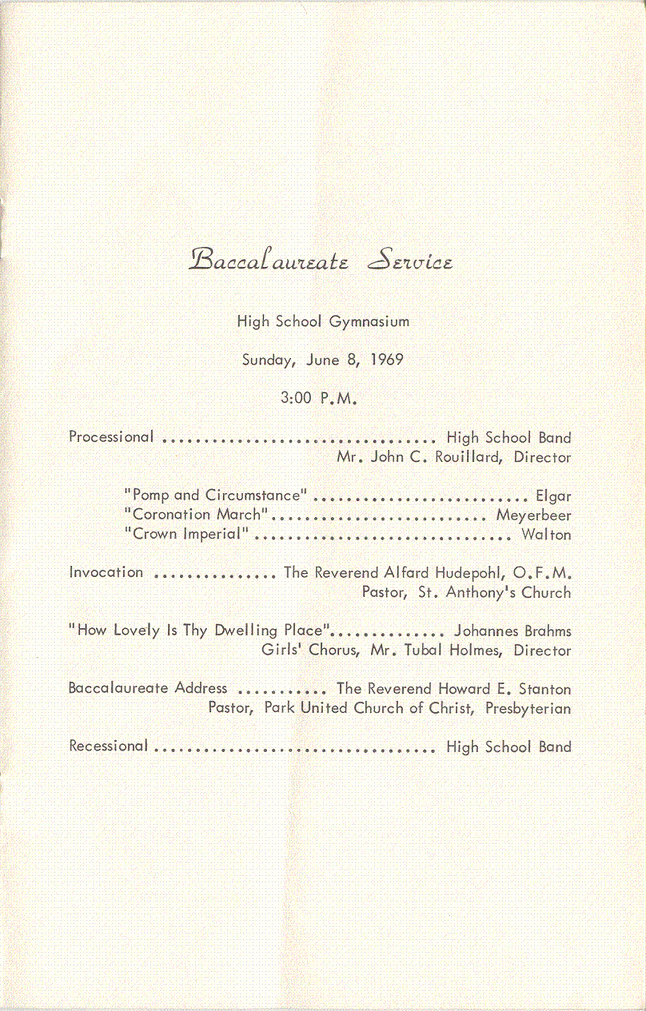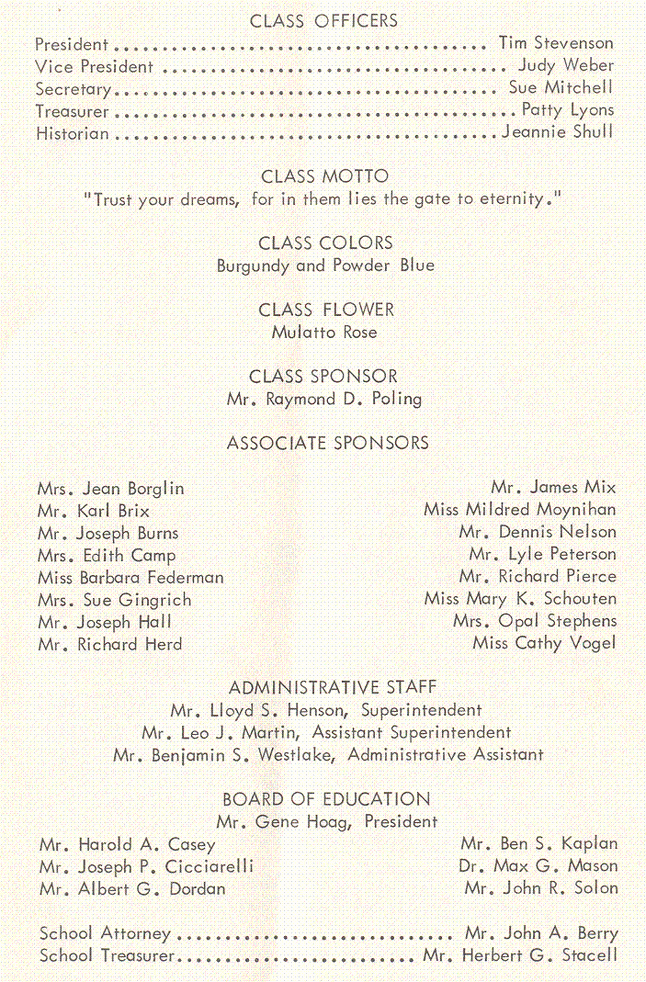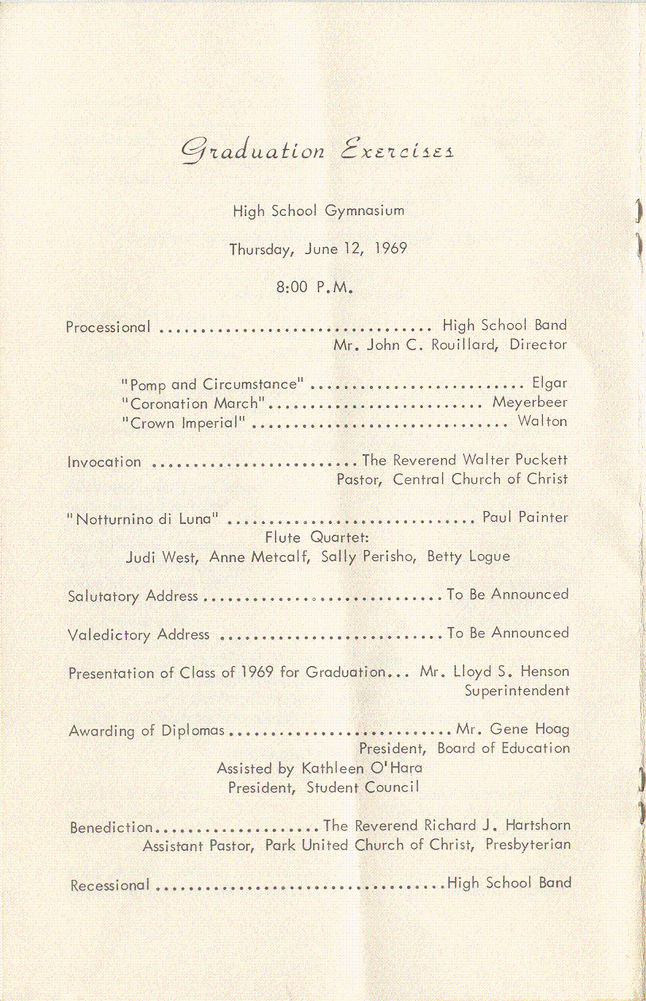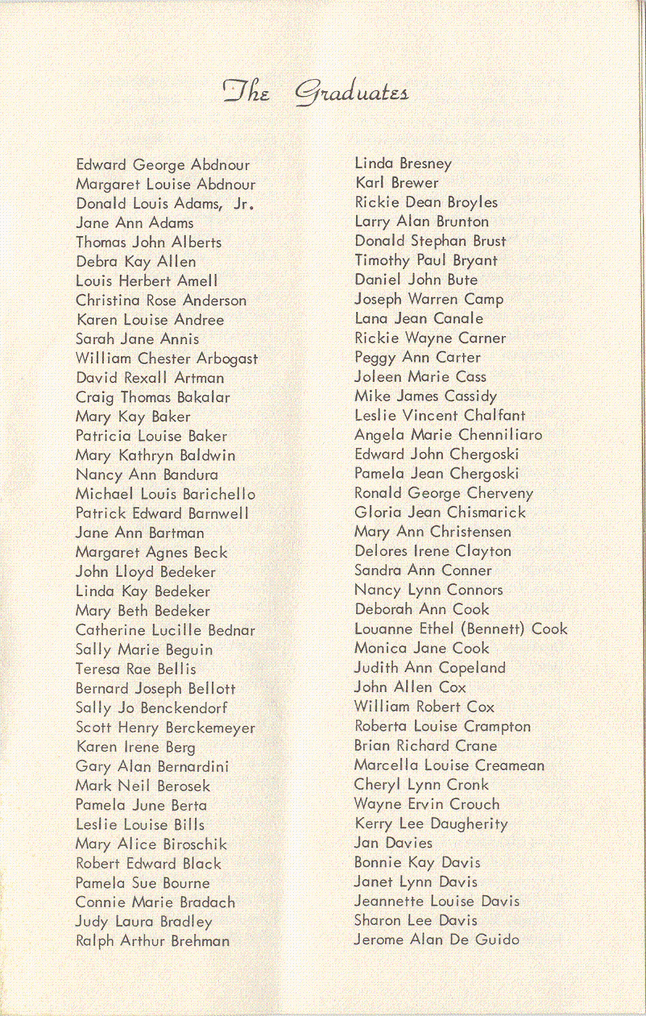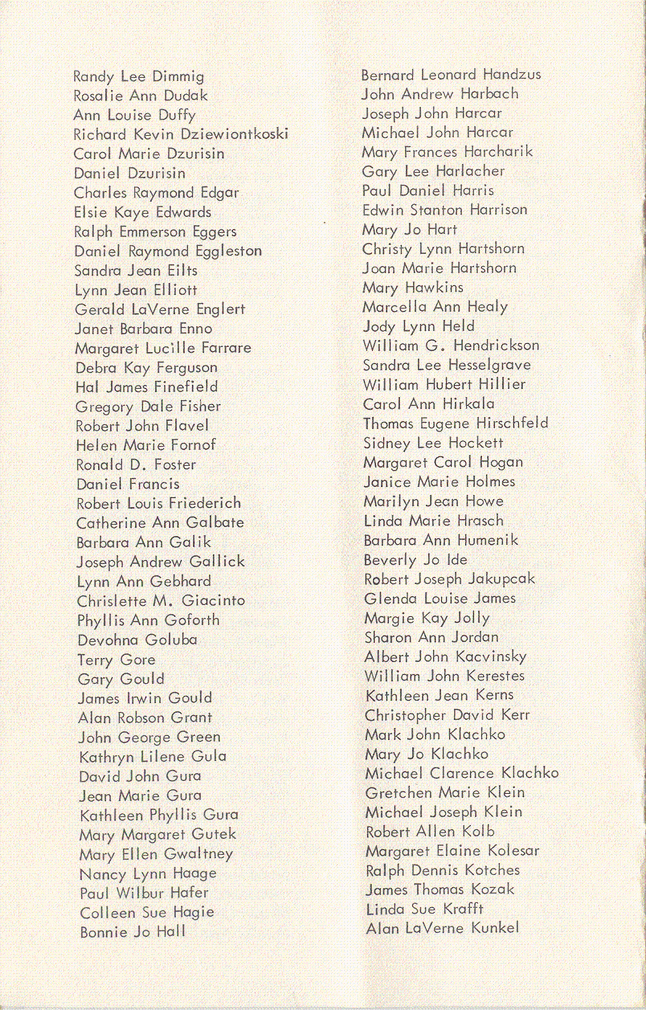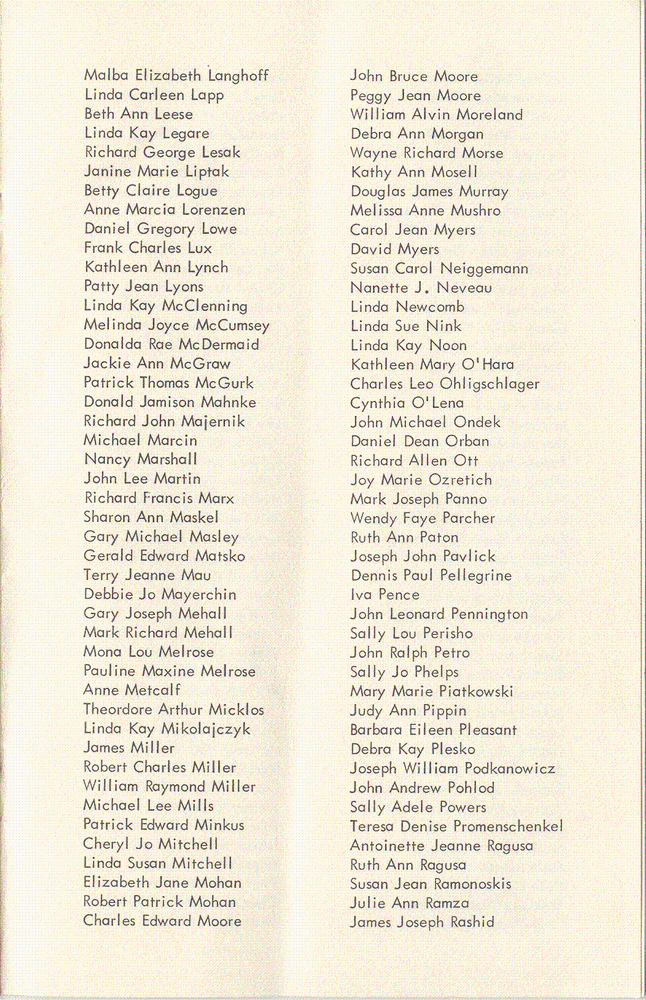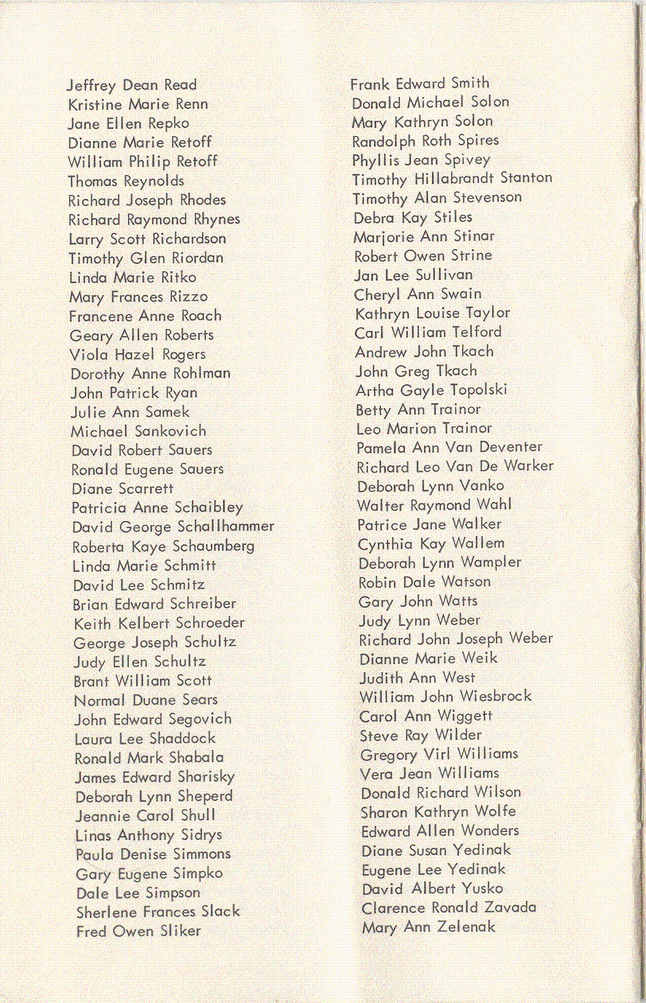 Thanks to Diann (Weik) Handy for sending the Beatles memorabilia.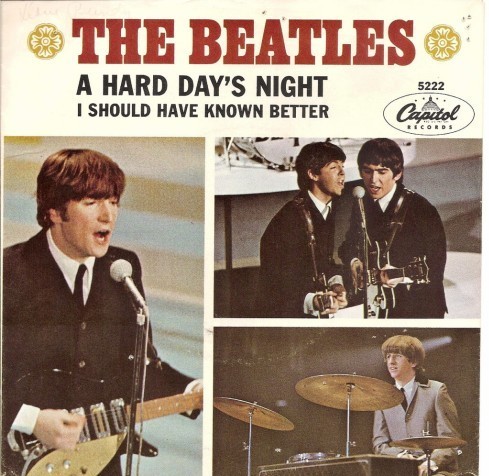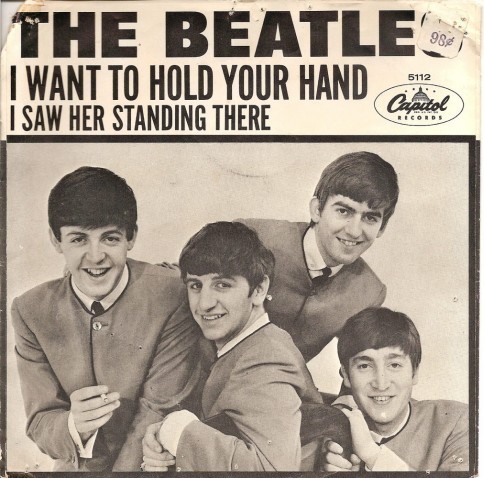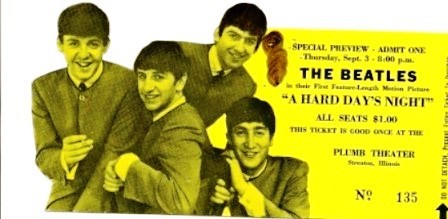 The Woolworth Co menu provided by Sandy (Eilts) Aukland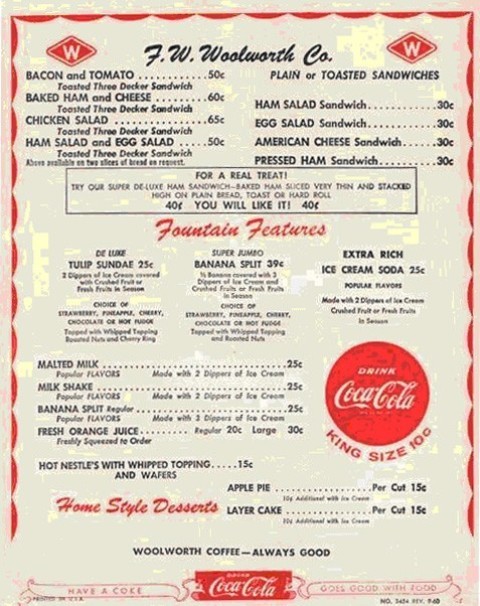 The following Norris Hall article was provided by Tim Bryant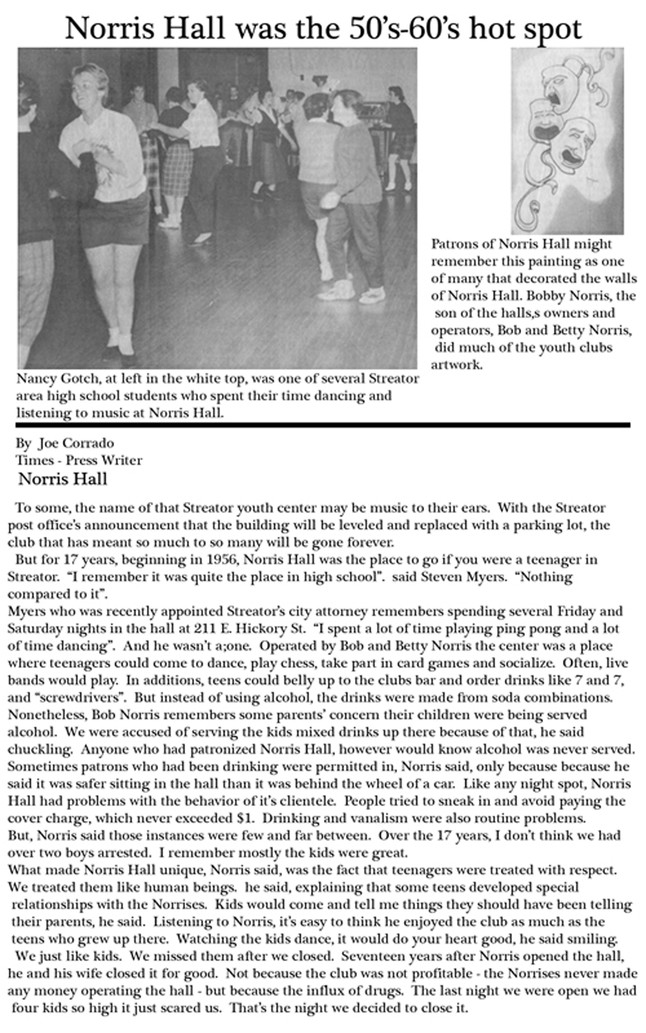 The not so graceful side of the Golden Years (By Les Chalfant)
Plavix, Niaspan, Lipitor, 81mg aspirin, and a host of new medications fill our medicine cabinets now. Have you noticed that we now abbreviate EDUCATION as Edu. When we were in our youth it was abbreviated ED, but now ED means entirely something different. In fact an entire line of pharmaceuticals have been created to combat ED. Viagra, Levitra, and Cialis. Gentlemen, don't even think about using Cialis, I threw my back out dragging those cast iron bathtubs all over the yard before Kathy could decide precisely where she wanted them. Medication interaction is of great concern also. Viagra and Rogaine for hair growth is a terrible combination. I can speak from experience on this one. I looked like DON KING for a week. These ED medications don't work well with Iron supplements either. You will become a human compass, always pointing north. By chance I have come across a couple of "NOT SO BAD" medication interactions though. One evening while getting ready for bed, Kathy was at her makeup table and asked me to hand her the Ph Balance. I did not have my glasses on and mistakenly handed her my Preparation H. When I awoke in the morning I noticed that Kathy looked 10 years younger and when I was undressing for a shower Kathy stated the complexion on my butt looked like it did when I was 24 years old. Another great combination I have experimented with is Ginkgo- Levitra. The Ginkgo aids tremendously in helping you remember why you took the other pill.
Clothing has changed a great deal also. Girdles are out, thank goodness. I remember once at the gym locker room, one of the guys was removing a girdle he had on. I asked him, "When did you start wearing a girdle?" He responded ever since my Mom found it in my glove compartment. Spandex, who invented that material? So there I was in Starbucks having my Carmel & chocolate, double whipped cream topped with nutmeg Latte (Used to be called coffee) when Middle Aged JOE COOL and his Female companion entered in their spandex outfits. I overheard the ladies at the next table calling him the GRAPE SMUGGLER and commented about how she must have gotten caught in a hail storm. Do all you guys remember wearing your cup and jock to protect yourself while playing sports? Do you still find yourself using the cup and Jock to protect yourself while doing dangerous things like sitting down in a recliner?
Our bodies have changed; I mean a lot of change has happened in this house. My wife asks me frequently if I am trying to set a new Guinness world record for the length of my Nostril, Ear, and Eyebrow hairs. That's not funny! I remember an event that occurred as a teenager while my grandfather lived with us. Grandpa could only find one of his hearing aids; he had the entire family looking for the other one. I took him to the doctors because he complained that the one he did have was not working. The physician holding back laughter said that grandpa had stuffed a suppository in his ear. So I called home and told everyone that I knew where grandpa put his hearing aid. Remember the full length mirrors that your wives insisted on having many moons ago. During my nightly ritual to the restroom in the middle of the night in the darkened house, I punched this strange fat man. The trash man should pick up the broken mirror today from the curb.
LIVE, LOVE, and LAUGH, especially at yourself.
KATHY & LES THEN AND NOW