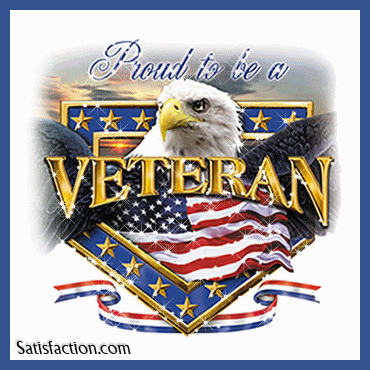 This page is dedicated to the classmates that have served in the armed forces and to those that have lost their lives in the service to our country. It is my honor and privilege to be creating this page.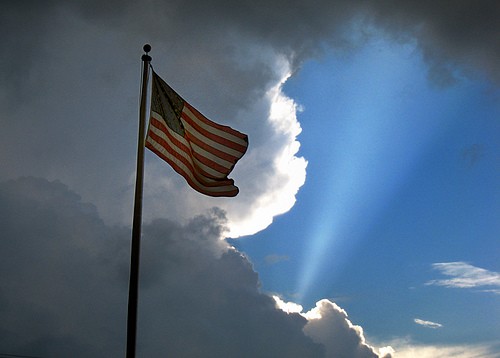 (Photo of flag was taken by classmate Rick Carner)
The following video was a work of love from classmate Ron Sauers
A SALUTE TO THE MEN AND WOMAN OF THE CLASS OF 1969 AND TO THIER FAMILY'S FOR SERVING OUR GREAT NATION...
Please turn off the playlist below and turn up the volume on this video. Click on the box next to the letters HQ or the little speaker. Quality is not as good but you can view full screen.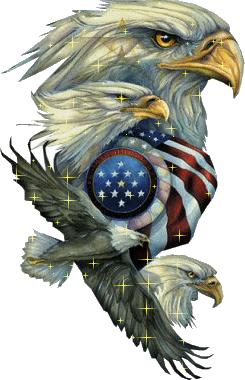 OUR COLORS By Charles H. Miller 1958
(Father of Bob, Bill & Ted)
The stripes of red and the stripes of white
Though stars may change on the field of blue,
Old Glory

, we are proud of you.
of these our colors be ever proud
be thankful now ,and so everyday
That you live in the U.S.A

.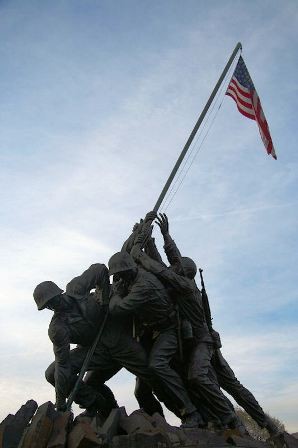 PATRICK DONELSON (VIETNAM)
MELINDA MCCUMSEY (EARLEY)
PHILLIP MUELLER (VIETNAM 69-70)
LINDA NEWCOMB (LAMANGO)

LOU OLIVER (RVN 1970 - 1972)
FRANK SAUERS (VIETNAM)

CARL TELFORD (VIETNAM)




GORDON CUTRIGHT (VIETNAM)
MIKE SPENCER
(VIETNAM)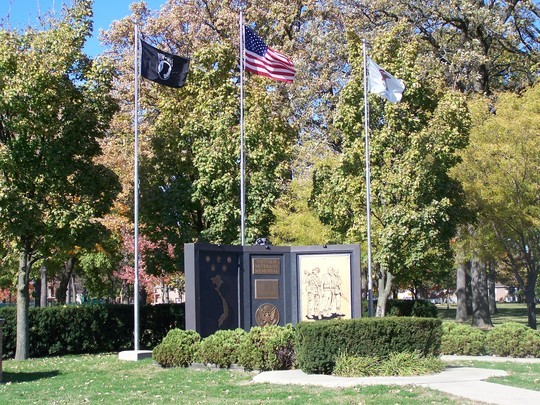 Vietnam Veterans Memorial Dedicated October 26, 1986... It was designed by a Streator High School Sophmore... The Memorial is dedicated to the six young men from Streator who were Killed in Action from Streator... Two of whom classmates may know... Bob Bute's brother Don and Ronnie Munson the others are Chuck Schafer, Timothy Hamilton, Paul Woolford and Herald Delaney...
What is a veteran?

Just look around.
Right where you're standing,
He fought for that ground.
A Vet is a person who answered the call,
Who went into war, and gave it his all.
He defined a way of life that we all love,
but much preferred peace, like the way of a dove.
He asked not the reason, as he stood in the trench.
He faltered not once in the muck and the stench.
As soldiers in legions, they stood side by side.
They knew some would fall, as many more died.
They whispered their prayers in a helmet of sweat.
Shells bursting above wouldn't let them forget.
Tears in their eyes as their friends lay so still
One hour ago, he was king of the hill.
Many more wounded, spilling of life.
When will it end, the battle of strife?
For many the battles never will end,
Now they are civilians, and find they can't blend.
Some are disabled, and some are disturbed.
After coming home from hell,
They find they've been curbed.
A veteran is special, to be not denied.
He put it up front, he need never hide.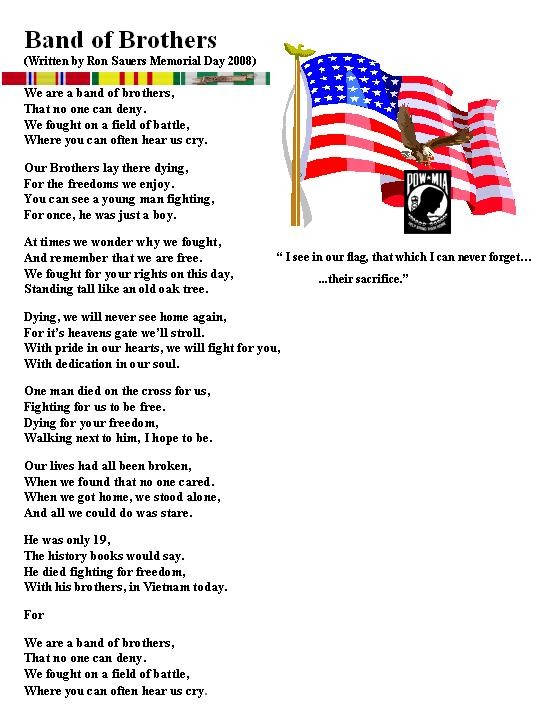 WHY "TAPS" IS PLAYED:
If any of you have ever been to a military funeral in which "Taps" was played; this brings out a new meaning to it.
Here is something every American should know...but most don't, until they read this: We in the United States have all heard the haunting song, "Taps". It's the song that gives us that lump in our throats, and usually tears in our eyes. But, do you know the story behind the song? If not, I think you will be interested to find out about its humble beginnings.
Reportedly, it all began in 1862 during the Civil War, when Union Army Captain Robert Ellicombe was with his men near Harrison's Landing in Virginia. The Confederate Army was on the other side of the narrow strip of land. During the night, Captain Ellicombe heard the moans of a soldier who lay severely wounded on the field. Not knowing if it was a Union or Confederate soldier, the Captain decided to risk his life and bring the stricken man back for medical attention. Crawling on his stomach through the gunfire, the Captain reached the stricken soldier and began pulling him toward his encampment.
When the Captain finally reached his own lines, he discovered it was actually a Confederate soldier, but the soldier was dead. The Captain lit a lantern and suddenly caught his breath and went numb with shock. In the dim light, he saw the face of the soldier. It was his own son. The boy had been studying music in the South when the war broke out. Without telling his father, the boy enlisted in the
Confederate Army.
The following morning, heartbroken, the father asked permission of his superiors to give his son a full military burial, despite his enemy status. His request was only partially granted. The Captain had asked if he could have a group of Army band members play a funeral dirge for his son at the funeral. The request was turned down since the soldier was a Confederate. But, out of respect for the father, they did say they would give him one musician.
The Captain chose a bugler. He asked the bugler to play a series of musical notes he had found on a piece of paper in the pocket of the dead youth's uniform. This wish was granted. The haunting melody, we now know as "Taps" used at military funerals was born!
The words are:
Day is done ... Gone the sun
From the lakes ... From the hills ...
From the sky.
All is well. Safely rest.
God is nigh.
Fading light. Dims the sight.
And a star ... Gems the sky
Gleaming bright
From afar.
Drawing nigh.
Falls the night.
Thanks and praise ... For our days.
Neat the sun ... Neat the stars...
Neat the sky.
As we go... This we know.
God is nigh.
Flame to burn in remembrance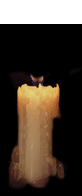 THE FINAL INSPECTION

The Sailor stood and faced his God
Which must always come to pass
He hopes his shoes were shining
just as brightly as his brass
"Step forward now, you sailor
How shall I deal with you?
Have you always turned the other cheek?
To my Church have you been true?"
The sailor squared his shoulders and said,
"No Lord, I guess I ain't
Because those of us who carry guns
Can't always be a saint.
"I've had to work most Sundays
and at times my talk was tough,
and sometimes I've been violent
because the world is awfully rough.

"But I never took a penny
That wasn't mine to keep.
Though I worked a lot of overtime
when the bills just got too steep.
"And I never passed a cry for help
though at times I shook with fear,
and sometimes, God... forgive me,
I have wept unmanly tears.
I know I don't deserve a place
among the people here;
They never wanted me around
except to calm their fears.
If you've a place for me here, Lord
It needn't be so grand
I never expected or had too much,
But if you don't, I'll understand.
There was silence all around the throne
Where the Saints quite often tread
As the Sailor waited quietly
For the judgment of his God.
"Step forward now, you Sailor,
You've borne your burdens well
Walk peacefully on Heaven's streets;
You've done your time in Hell."
-Author Unknown

~~~~~~~~~~~~~~~~~~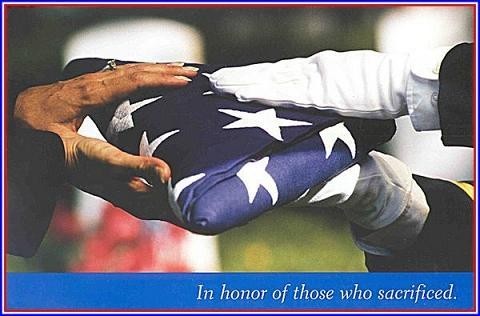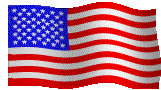 BELOW IS THE ADDRESS MARJIE STINAR GAVE AT THE MEMORIAL DAY PROGRAM HERE IN STREATOR...
Memorial Day 1969 was the last time I participated in this day of rememberance. I was a senior here at Streator High School. It's been long time since I've been home...my friend Ron Sauers asked me to come home and be a part of this day. I am so glad I said yes...
the past few days have been wonderful...there truly is no place like home...Thank you Ronnie for asking me to be here today. It is an honor to share this day with you.
The pledge of allegiances to the flag,is a pledge to the ideals of our forefathers.
The men who fought and died for the building of this great nation.
It's a pledge to fulfill our duties and obligations as citizens of the United States and to uphold the principals of our Constitution.
And last but not least, it's a pledge to maintain the four great freedoms cherished by all Americans, freedom of speech, freedom of religion,
freedom for want, and freedom from fear.
As we recite together these great words...let us all look to the flag.. place your hand on your heart.....As you look at those beautiful colors....the stripes...the stars....see the faces of our fellow Americans that serve or have served and protect her today......remember the faces of those Americans that served....but never came home...or have passed on.
Please join with me and say these great words.......
I Pledge Allegiance to the flag
of the United States of America
and to the Republic
for which it stands,
one Nation under God,
indivisible, with liberty and justice for all.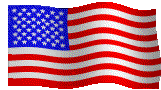 All gave some, Some gave all.
Two iconic photographs taken decades apart, yet so hauntingly similar.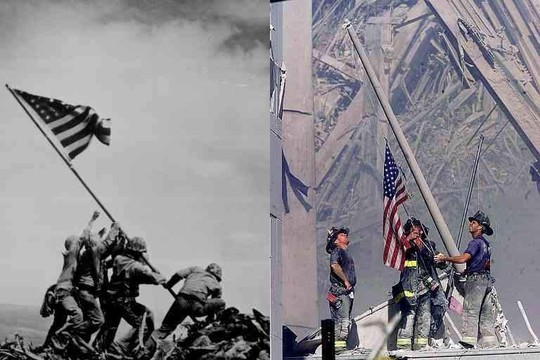 Memorial Day Tribute to the
Veterans of the Class 1969